___________________________________________________________________________________________

Birkenwald Ciska – Written By Andrew Morris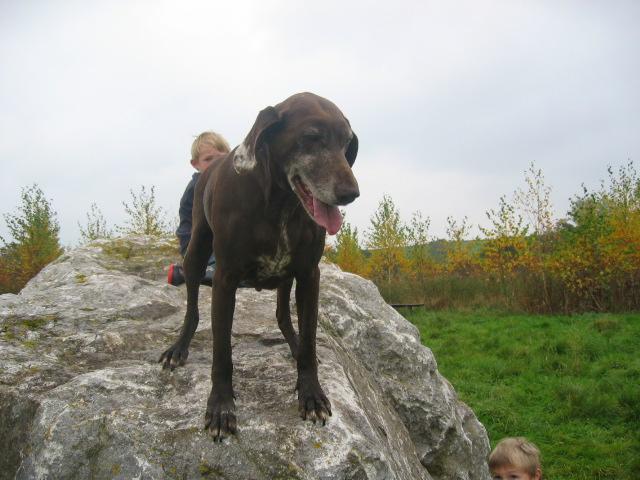 Birkenwald  Ciska was out of the highly acclaimed Dolf  Von Wittekind a field Champion in Germany and later imported into this country by Mrs Gill the owner of the Birkenwald Affix. Her mother was a Walburg Rayana, a solid black bitch.

Ciska was a solid Liver girl. Her pet name was Bertie! She is the foundation of the Lodon GSP kennel. She was a great girl, with a strong personality and a fantastic working dog.  She grew up with our two boys Harry and Edward and they loved each others company.

Motherhood came naturally to Ciska.  She had four litters of puppies, over a period of 6 years. Her final two litters were sired by the top performing Barleyarch Playboy. Lodon Cissie was chosen from the third litter and Lodon Dilly Dally was chosen from the forth litter to breed on from and to continue the Lodon lines.

Ciska is now buried in our back paddock at home. Sadly missed, but always remembered.



___________________________________________________________________________________________

Lodon Cissie – Written by Jane Morris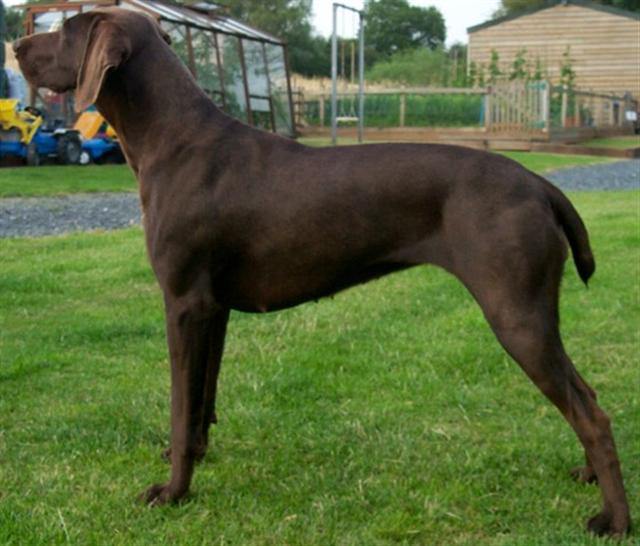 Lodon Cissie is affectionately know as "Tess". She was out of Birkenwald Ciska and Barleyarch Playboy.

Tess had three litters of puppies and proved to be a natural mother, having nearly 30 puppies in total. She is a very kind natured and laid back. Lodon Jasmine was selected, to be retained, from her last litter. It is obvious to me that Tess has passed on her laid back nature to Jasmine.

Tess is now in her latter years.  She has gone white around her head and looks very noble. As she has  grown older, her favourite place is to be curled up in front of the roaring Woodburner.

Tess has joined her mother  being buried next to her mother in our back paddock.



___________________________________________________________________________________________

Lodon Dilly Dally – Written by Edward Morris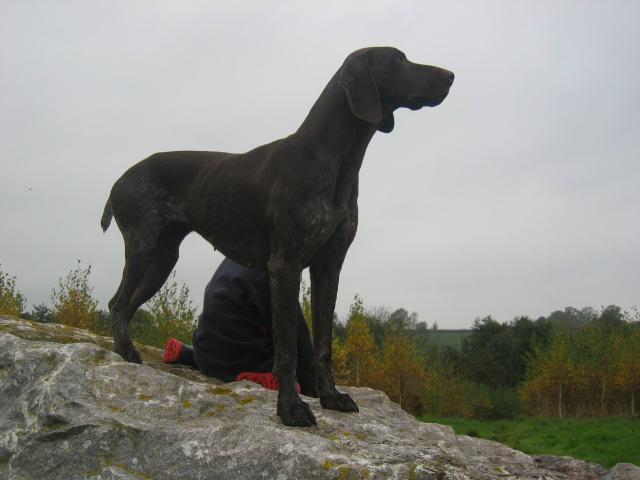 Dilly Dally's mother was Birkenwald Ciska and her father was Barleyarch Playboy. She was a beautiful girl, being a very well marked liver and white girl.

All who met her were very complementary of her looks and those who were informed, made reference to her having the look of your dad. She was quite a bossy girl, who became the leader of the pack when her mother passed away.

She turned into a great working dog with a great flair for hunting. She regularly caught rabbits, pheasants and small foxes. One day she almost caught a monk jack (a small deer).

She is buried  next  to her mother in our back paddock.



___________________________________________________________________________________________

Lodon Jasmine – Written by Harry Morris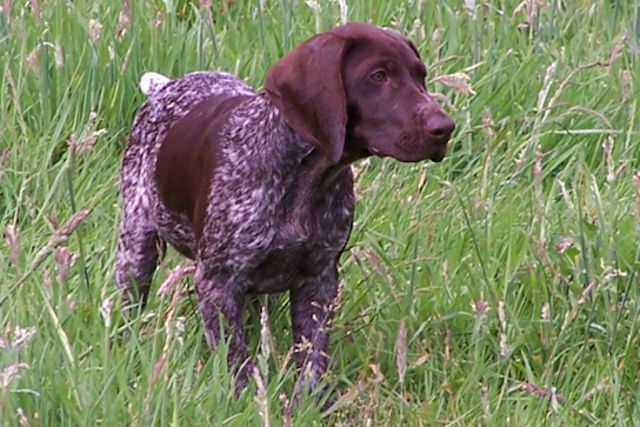 Lodon Cissie (Tess) is the mother of Jasmine. Her father was a dog called Barleyarch Aran. She was selected from  Tess's last litter to ensure we had another girl to breed on from. Her father was a substantial dog and she is also a slightly bigger girl.

She has a great coat with lovely liver and white markings. She is a real character much to the amusement of all the family. She is so easy going she can often be seen falling to sleep stood up! She loves the other dogs and loves the company of everyone.

In-line with the kennel club's directives, for breeding bitches, she has been hip scored (score 4-6, total 10) and eye tested clear. Our plan is to select a puppy from Jamines's last litter to continue the Lodon family.



___________________________________________________________________________________________

Lodon Katie Can – Written by Andrew Morris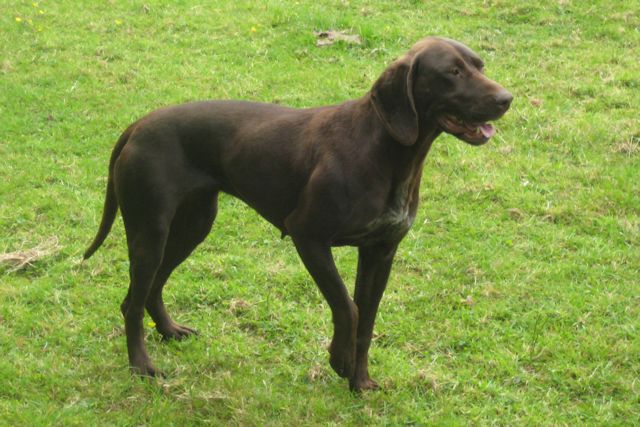 Katie Can is out of Lodon Dilly Dally and sired by Murphy (Aarranz Rough Diamond JW). She is the latest generation of the Lodon Bloodlines. She is a solid liver girl and is very much out of the mould of her father.

She is the first dog that we have had that that has kept its tail. A tail which we love! Like her mother she has a strong personality and is always keen to lead the pack. She is a instinctive hunter and loves being taken for walks on Bromyard Downs. 

She has a lovely smile and very much enjoys the company of the family.  She has shown that she is also a great mother, doing a fantastic job of raising her first litter of eight puppies.

In-line with the kennel club's directives, for breeding bitches, she has been hip scored (score 4-5, total 9) and eye tested clear.

Lodon Pandora has been retained from Litter P to continue the Lodon pedigree into the fourth generation.

We  are currently considering retaining a puppy from Katie's third and  final litter to further enhance the Lodon Pedigree.


___________________________________________________________________________________________

Lodon Pandora – Written by Edward Morris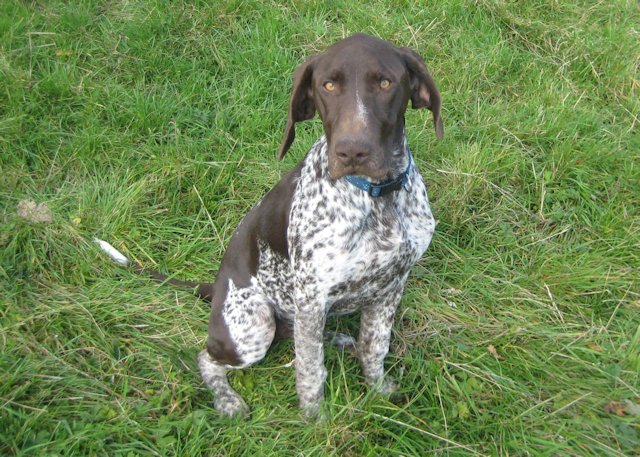 Pandora is the new girl on the block. She is out of litter "P" -  Lodon Katie Can and Barleyarch Paxo

She is the first flashy liver and white GSP we have retained.  She is very much out of the mould of her father Paxo and the Barleyarch Kennel.  She is turning into a beautiful  girl and loves to stand and show off. She has a fantastic personality. Her nature is very relaxed and she is a real sociable  dog. She loves the company of  other dogs and humans alike. She is fully of fun and mischief. She loves to watch her mother and other dogs hunt and is learning how it's done!

In-line with the kennel club's directives, for breeding bitches, she has been hip scored (score 4-4, total 8), health tested clear and eye tested clear.

We are looking forward to seeing how she develops and how she matures into a potential mother of the next generation of Lodon GSPs.