The owners, Andrew and Jane Morris, have two sons, Harry and Edward. Every member of the Morris family plays a part in the development of the dogs and the delivery of high quality puppies.

The puppies are raised in a family environment, living in purpose-built kennels. Both Harry and Edward are increasingly involved in the training and puppy development.

The Lodon Kennel was established twenty years ago. Andrew and Jane spent two years looking for the right bitch to enable them to establish themselves as a reputable breeder. They were fortunate enough to obtain a solid Liver bitch puppy called Birkenwald Ciska.

Ciska was derived from the highly acclaimed German Import Dolf Von Wittekind. Ciska provided four litters. During her younger years she regularly worked at a number of local shoots where she was very highly rated. She passed away some years ago and is buried in the back paddock at the home of the Lodon Kennel. Recently Lodon Dilly Dally has joined her mother there, they were both much loved and are sadly missed.

Jane and Andrew were keen to develop the pedigree, and eighteen years ago started to look for the suitable sire to mate with Ciska. Andrew made contact with the well established Barleyarch Kennel, based in Warrington. They kindly allowed Birkenwald Ciska to be mated to SH. CH. Barleyarch Playboy.

Playboy had a tremendous record in the ring and was instrumental in the quality of the Barleyarch pedigree development. Playboy was a fantastic dog and Andrew greatly admired his temperament and outstanding looks.

Playboy was the top performing GSP on a number of occasions and established himself as one of the best performing GSP dogs in the United Kingdom. Lodon Cissie, a solid liver, was selected for breeding. Twelve months later, repeat mating resulted in Andrew and Jane selecting a second bitch to breed on from. They named her Lodon Dilly Dally.

Dilly was very much out of her fathers style and looks. Lodon Cisse is now enjoying a her retirement on the Bromyard Downs. Lodon Dilly Dally has produced some fantastic puppies which have gone on to produce their own litters. Lodon Katie can was selected from Lodon Dilly Dally's last, to continue the Lodon story.  She has developed into a great mother of two litters.

Lodon Pandora has been selected from her second litter to ensure the Lodon Pedigree moves forward. Pandora is developing into a fantastic girl, loads of personallity, very kind and caring.

Lodon Jasmine was selected from Lodon Cissie's last litter. She has produced two wonderful litters. She has a great temperament and has her mother's laid-back personality.

This will mean that the Lodon kennel will continue to develop and will appear on the first, second, third and fourth generation of the pedigree of future litters. Jane, Andrew and the boys are very proud of this achievement.


The Lodon story continues!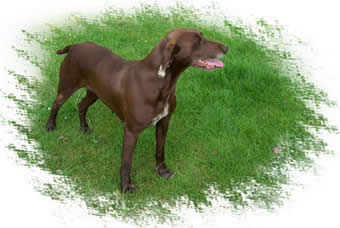 Birkenwald Ciska
First Generation Lodon GSP Out of
Dolf Von Wittekind (German Import)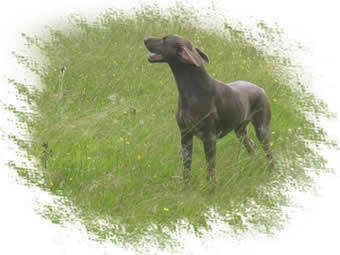 Lodon Dilly Dally
Second Generation Lodon GSP
Out of SH. CH. Barleyarch Playboy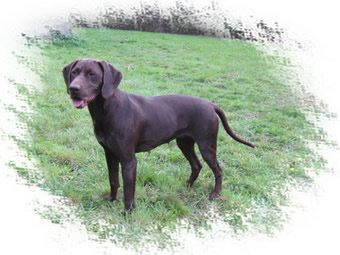 Lodon Katie Can
Third Generation Lodon GSP
Out of SH. CH. Aarranz Rough Diamond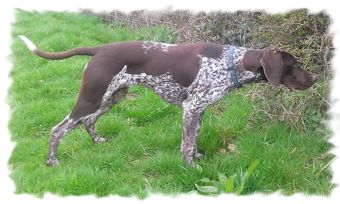 Lodon Pandora
Forth Generation Lodon GSP
Out of SH. CH. Barleyarch Paxo J W